Few things are more nerve wracking than dates. When you're single the pressure to look good, say the right things and go to the right places is unbelievable. With all this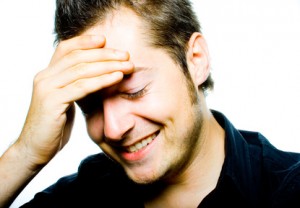 pressure, it's no wonder that everyone has had at least one dating tragedy; in fact if you've only had one dating nightmare then you're lucky. Despite the fact that my worst date occurred in my early twenties, I can still remember it like it was yesterday.
I remember being at a party and seeing a single gorgeous woman whom I knew I had to talk to. After working up the courage to speak with her, we talked for a bit and realized we lived in the same neighborhood and agreed to a date later that week for a local bar. When Friday finally rolled around I put on my best clothes and headed out to meet her at the predetermined time, but when I got there I realized she had been their for a while.
Your browser may not support display of this image. She was precariously perched on a bar stool with a half empty drink in her hand and didn't seem to remember me when I waived to her and said hello. After reminding her of the party where we met she remembered me and commanded me to get a drink. Wanting to make a good impression I ordered a beer and stayed away from the hard stuff, but she matched my beer with a shot…and then another shot.
An hour into the 'date' her inebriation was apparent because she had told me the same stories and background information about five times. About half way through the sixth rendition of her college cheer leading days, she immediately got up and went to the bathroom. Upon return she apologized for her prompt departure but it was clear that she had evacuated her lunch and had managed to get a little on her jeans without being aware of it. The drinks continued to flow and I soon realized that this date was beyond repair and I decided to use the 'I have to wake up early' excuse to leave.
Now through out most of the evening, along with her repeated stories, she kept commenting on a bar patron whom looked like an old boss of hers that she didn't think highly of; which seemed harmless because the woman was a good distance away. However, when we were leaving we walked behind her and my date must have said something because the woman turned around and got in her face. I quickly apologized and tried to calm the situation by buying her and her boyfriend a drink, but in response to my offer, her boyfriend replied with a fist to my face. The security gently removed myself and my date from the bar and ordered us a taxi. I told her that I'd had more fun at the dentist and that I didn't think a second date was necessary. A trip to the emergency room, a broke nose, several stitches and scar are a constant reminder of my worst date ever.