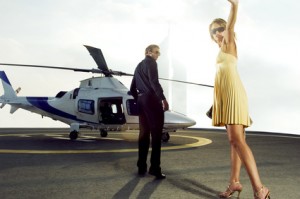 "Is he who he says he is?"
Of the millions of questions we get here at Singles.com, this is arguably the most asked, particularly by women.
To be specific, many women are looking for assurances that they are not putting themselves out there online only to be disappointed by men who make false claims as to their looks, relationship status, and most importantly, their financial status.
Admittedly, most dating sites do not screen their prospective clientele based on anything more than location, likes and dislikes, or nonsense like astrology. For the discerning woman who knows what she wants and isn't afraid to say so, one must limit oneself to sites that provide a more rigorous screening process.
Enter DateAMillionaire.com. This is a site tailor-made for women (and a few men) who are absolutely certain that they deserve that seven figure lifestyle, and are looking for nothing but potential mates who fall into that economic category.
All profiles listed on this site are "guaranteed" to connect you to a seven-figure earner, and while nothing in life is guaranteed and a few losers certainly do slip through the cracks, this site is fairly conscientious about sorting out those who belong from those who do not.
So if you are a princess, you know it, and you're looking for someone to treat you as such, do yourself a favor and skip the average personal sites. Instead, opt for a more selective dating site made specifically with your desires in mind.
The lesson here: do not be afraid to go after what you want, and more importantly, what you deserve.